The Envizi Sustainability Reporting Manager tool covers many ESG Frameworks. While Envizi seeks to cover the most popular frameworks with the broadest coverage, there may be some frameworks that are not covered. In some cases Envizi has created other tools and reports to meet the framework requirements, as we currently do for GRESB and CDP.
All available frameworks can be enabled by request, but Envizi seeks to provide a streamlined experience so only those frameworks that are needed by the organization are enabled.
For an overview of ESG Framework landscape more generally, see here.
Global Reporting Initiative (GRI)
GRI Disclaimer
The GRI Standards are used by IBM Envizi under licensed authority from GRI. GRI, as Licensor of the copyright in the GRI Standards, verified and validated the authentic and accurate representation of the GRI Standards by Licensor in (Licensee's Authorized Product). This verification was limited to ensuring the maintenance of the integrity, authenticity and accuracy of the Licensed Content. GRI therefore makes no implied or actual representations or warranties as to the correctness, compliance, trustworthiness, fitness of purpose or quality of IBM Envizi or any products resulting therefrom; or of Licensee's use of the GRI copyrighted content; and expressly disclaims any implied or express representations that any report produced by Licensee meets the standards of an approved GRI Standards Report.
The GRI Framework is structured into the following categories: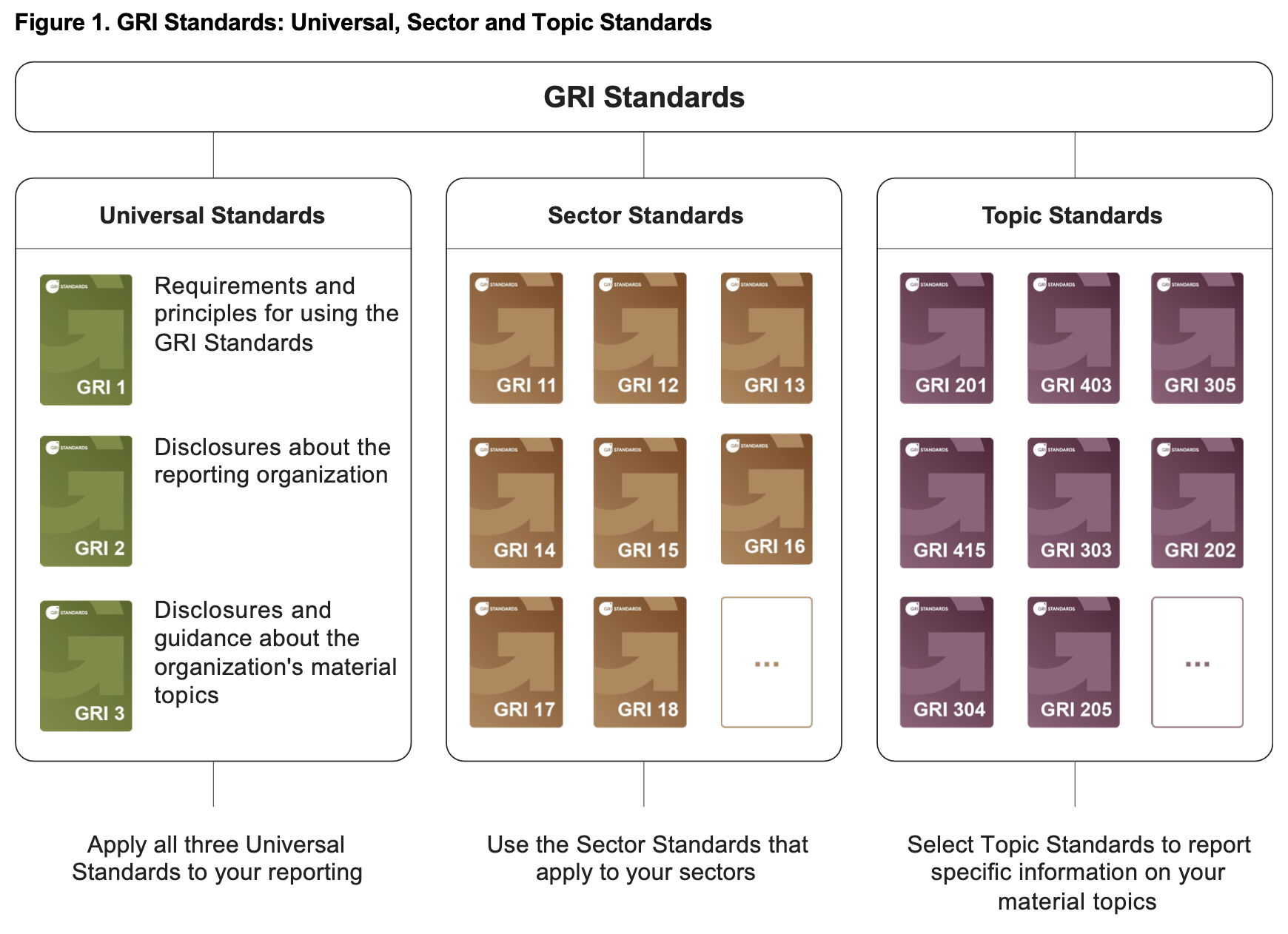 This figure was sourced from GRI 2, page 6.
Envizi provides support for all Topic Standards and will be adding support for all Sector Standards as they are released. See here for more information.
Sustainability Accounting Standards Board (SASB)
SASB Attribution
Envizi licenses and uses the SASB Materiality Map® Disclosure Topics, Accounting Metrics, and Technical Protocols in our work.
The SASB standards are organized into 11 sectors, which are sub categorized into 77 industries. To identify the industry (or industries) your organization may wish to report against, visit the SASB website and use the Materiality Finder.
Ten Principles of the UN Global Compact
UN Disclaimer
The United Nations Global Compact does not sponsor, endorse, review or otherwise express any opinion regarding IBM's products and/or services.
For more information on the 10 Principles, see here.
The Taskforce on Climate-related Financial Disclosures (TCFD)
For more information on TCFD and the recommended disclosures, see here.
TCFD is structured into the following 11 areas:
Sustainable Finance Disclosure Regulation (SFDR)
This frameworks applied to EU-based organizations. See here for more information.