Scheduling Data Capture Issues
Data Capture Issues can be scheduled to automatically request manual data capture to meet your regular reporting obligations.
To schedule a request, first follow the instructions on this page Ad-hoc Data Capture Issues to select the accounts for which you want data captured.
Next, select one of the schedule frequencies as shown below.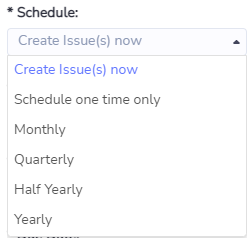 Selecting "Schedule one time only" will create Data Capture Issues only once.

Selecting Monthly, Quarterly, Half Yearly or Yearly will create Data Capture Issues at that frequency from a Schedule Start Date until a Schedule End Date, or indefinitely if a Schedule End Date is not specified.

For Scheduled Issues the Due Date is set as the number of weeks from when Issues are created.
You can preview the resulting schedule when all fields have been selected. Click Create to set up the schedule which will generate Data Capture Issues for each account and send notification emails on the scheduled date, and on a recurring basis as per the schedule frequency.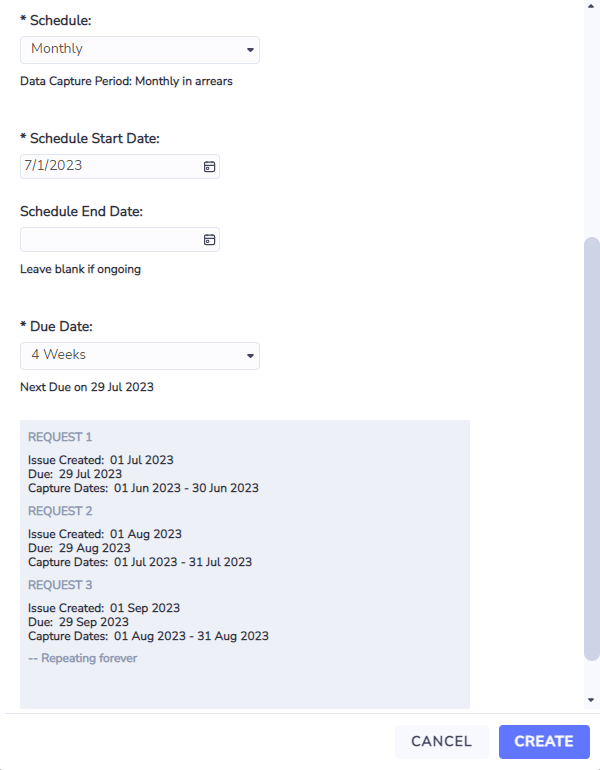 Editing Scheduled Data Capture Issues
Scheduled Data Capture Issues can be viewed under the Scheduled Issues grid, which is accessible via the
Organization level "Monitor->Issues->Scheduled Issues" menu,

"More->Scheduled Issues" menu on the Group, Location and Account Summary pages, and

Scheduled Issues action on any accounts grid.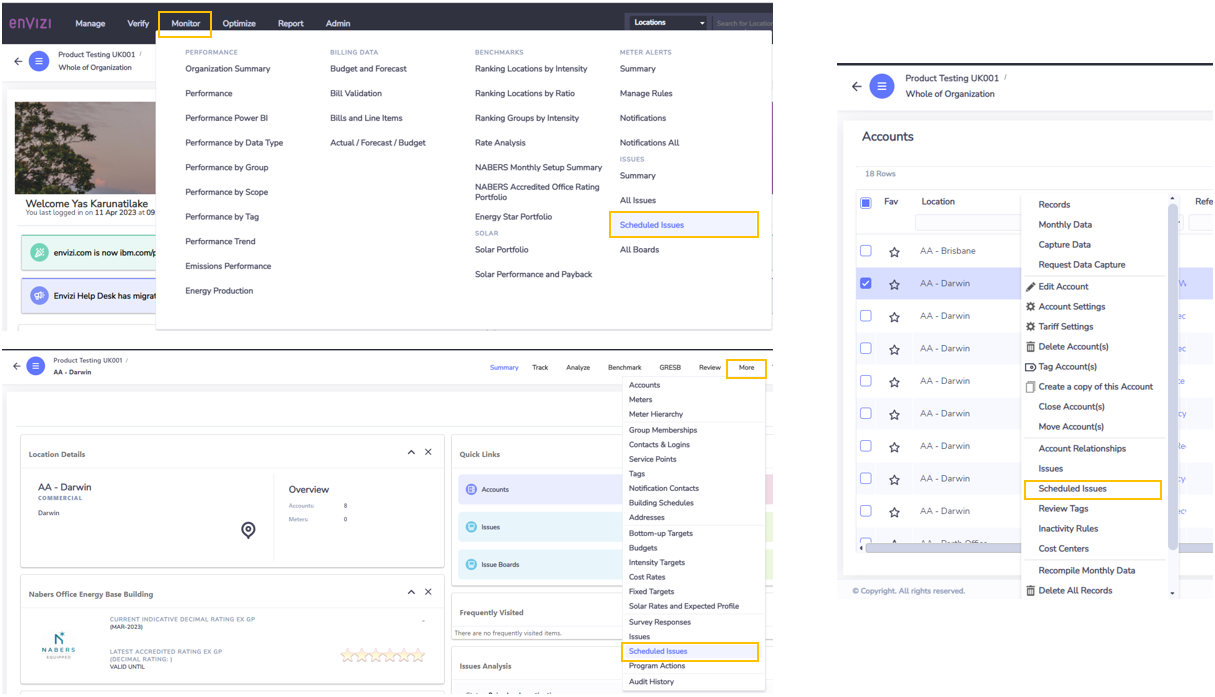 Scheduled Data Capture Issues can be edited via the Edit Schedule form. This form is similar to the Request Data Capture form with the following differences:
Accounts list is a read-only list. If accounts need to be added or removed a new schedule needs to be created.

Schedule type cannot be changed. i.e.,

One time only schedule cannot be changed to recurring

Recurring schedule frequency can be changed, but not changed to one time only

"Schedule Start Date" is replaced with "Next On Date"
You can also use the Scheduled Issues grid to disable a Scheduled Data Capture request by updating its status or delete it completely.
Any changes to the schedule will apply to future Issues that are created. Any existing Issues will remain unchanged.